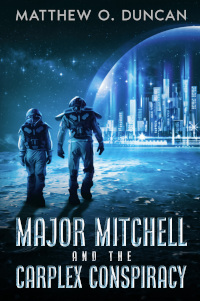 Summary
Major Julie Anne Mitchell is on her own for a week while her partner Lt. Reilly is off on vacation with his girlfriend, Kayla. She expected a quiet week of data work and dry meetings with lawyers. But from the moment Antonio walked into her office, her week was anything but dull. Ordered to drop everything, she is tasked to work with Antonio to prove the conspiratorial partnership between the former Senator Klum and the recently dead Waller Carplex. Digging into the dirt of a crime syndicate isn't an easy or safe endeavor. She soon discovers new villains, finds herself hunted by the ones she's after, and is forced to deal with the unseen scars left deep inside of her by the Serken war.
Told from Mitchell's perspective, this is a brief glimpse at her life, the choices, and tragedies that led her to who she is at that moment, and where her future may take her.
Available as E-book and physical copies.